The Hudson Fish and Game Club, Inc. is located at
53 Pine Road
Hudson, New Hampshire, 03051.

The HFG Club was incorporated in August 1956

We are a 501(c)7 non-profit organization registered with the State of New Hampshire.


The Club is a registered non-profit organization in New Hampshire. We promote all legitimate sports with rod, gun, archery and fishing. We assist in enforcing the laws for the protection and propagation of fish and game within the state and help in securing legislation in connection with these purposes as may be necessary. We buy, sell, mortgage or lease real estate to further these purposes. We maintain a clubhouse and/or other buildings and generally promote social contacts of our members. 
---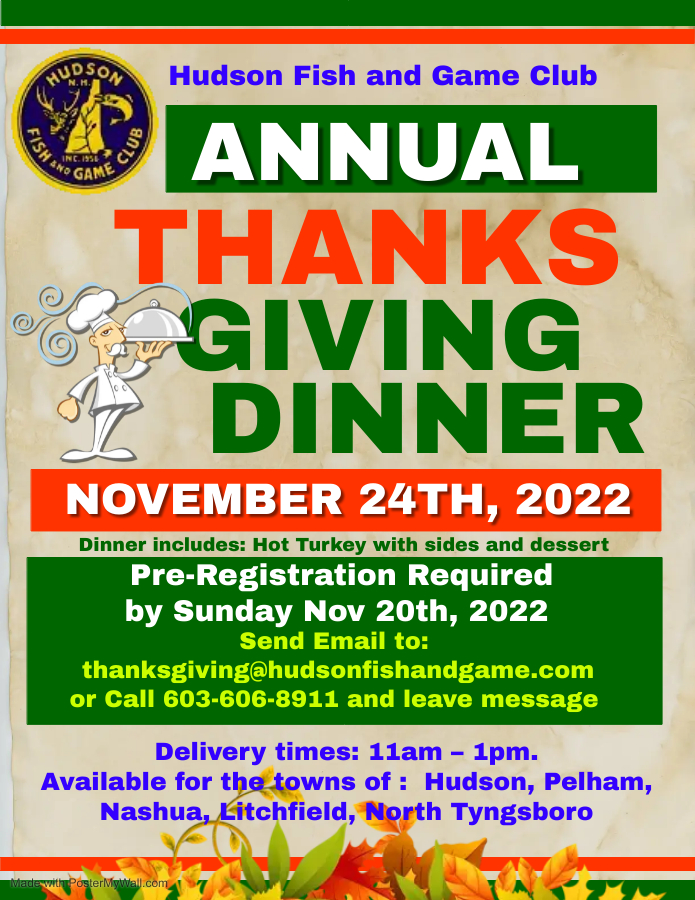 Planning has begun for our 2022 Annual Thanksgiving Day Dinner...
Please check back for an update
The Hudson Fish and Game Club, Inc holds an Annual Thanksgiving Dinner, on Thanksgiving Day, each year, to help feed the local communities a traditional Thanksgiving meal, for the disabled, less fortunate, and individuals in need. This includes delivering meals. We have been providing this service to our local communities for 25+ years. This is provided through club members who volunteer their time and the club's facilities. This service could not be provided without all the help from our dedicated active/retired club members, businesses from our surrounding communities, and members of our local cub scouts,girl scouts,and people volunteering. We receive monetary and in-kind donations from local merchants, which helps defray costs. In November 2018, we delivered 500 meals to our communities, and served approximately an additional approximately 125 meals at the club. We are always PROUD of this event. It is our way of giving back to our surrounding communities.
 
---

All club members are members of the NRA, National Rifle Association. You can become a member of the NRA on our main page by clicking on the JOIN NRA emblem.
---
The Hudson Fish and Game Club members also participate and assist in events held with Friends of the NRA, New Hampshire Chapter.
---
NOTICE:
Board of Director Meetings held first Monday of each month, unless it falls on a Federal Holiday.
General Membership Meeting held third Monday of each month, unless it falls on a Federal Holiday.
---
The Hudson Fish & Game Club, Inc. is located at:
  Hudson Fish and Game Club
53 Pine Road
Hudson New Hampshire, 03051
Club Phone Number: 603-889-9875

[DIRECTIONS]

 
---
Webmaster: Samuel Colt
Contact Webmaster